Seagull 24 cm pyramid orgonite (il Gabbiano)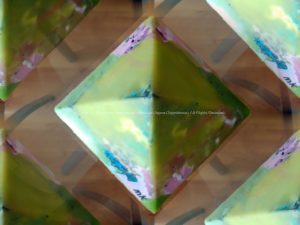 SPEDIZIONE DA OLANDA  – SHIPPING FROM HOLLAND
Seagull 24 cm pyramid orgonite, is a very powerful orgonite pyramid, done with a very big hyalin quartz natural point as top, another very beauty family of black quartz inside. But Seagull 24 cm pyramid orgonite contain also other organic materials, as flowers and leaves.
But why called this pyramid, Seagull 24 cm pyramid orgonite ?
Is summer now, we are in Italy, but ever here in Bologna working, no holydays at the moment, we see thousands friends all around the world showing their pictures in any turistic place possible on this planet. Well remembering the Jonathan seagull, thinking at the sense of freedom we miss a little bit in this moment, we decided call it Seagull.
I will no bother you in this article about all characteristics of the rocks, crystals and minerals used to create this orgonite pyramid vegan one, you can just search in other products description, and you will find detailed information about the minerals and crystals here used, and anyhow, you can also open google search engine and digit the name of the rocks, followed by the word "meaning".
So i will just let you at the gallery pictures of creation of this sculpture art opera.
Recently here in Holland, i decided to cover the pyramid, adding minerals outside, a giving (i hope) a better artistic effect.
And again i decided to change this pyramid, last time, hope all of you will like. Is not anymore a "veganite" but just one of my pyramids orgonite, because i covered her using beeswax, even was done by soy wax.
My Orgonite  are produced according to different principles, more than those based on the scientific work of Dr. Wilhelm Reich. There are also those related to holistic and scientific disciplines still not officially recognized. First of all aromatherapy. The use of beeswax that is done of essential oils makes my orgonite very scented, especially when used for meditation and when washed with cold water and soap. Secondly chromotherapy. My orgonite have characteristics as stones, aromas and colors. This refers to orgonite in all categories except the pyramids that are all unique. The pyramids have a variety of different shades and tones of colors, thus giving you the choice of colors more suited to your needs and affinities auric colors. Thirdly, the use of radionics, for both forms that also internal disposition of minerals and metals. And of course with the use of intention during the phase of creation. Even infuse your auric energy footprint is important, but obviously isn't easy as writing it. The chanting of the mantra OM and during creation is also used to infuse my orgonite also a vibrational imprinting.

Other information in english https://beeswax-orgone.com
Blog in italiano https://orgonite-naturale.blogspot.it
My Google + page  https://plus.google.com/u/0/+MarcoMatteucci-MarekSheran/posts
Our Google places page  https://plus.google.com/+OrgoniteMareksheranHorn/posts
Our Google + page  https://plus.google.com/+Orgonitemareksheran777/posts
My Twitter page  https://twitter.com/MarekSheran
Our official facebook page https://facebook.com/orgonitemareksheran
Our new site in Holland : https://www.orgonitenow.nl