Orgone Vegan – Pyramid quartz shungit 004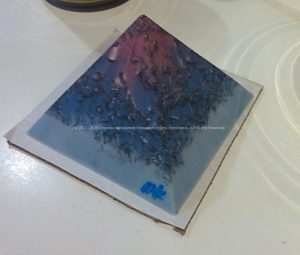 Shipping from Holland – Spedizione da Olanda
Orgone Vegan – Pyramid quartz shungit 004 is an ecosoywax orgonite pyramid, with an Hyalin quartz as top, and an heart of worked shungit. Orgone Vegan – Pyramid quartz shungit 004 contain both the powerful minerals that create a great shot of energy. Veganite pyramid quartz shungit 004 is absolutely the best for healing, and you can use it by yourself, if don't have an healer working on you.
Orgone Vegan – Pyramid quartz shungit 004 is ever an art object, done manually and with care at our home.
HYALINE QUARTZ LASER
The top of Orgone Vegan – Pyramid quartz shungit 004.
Ordinary yet extraordinary, colorful and clear, Quartz crystals are the most common and abundant in the world, comprising the largest and most diverse family in the mineral kingdom. "From ancient times to the present day, quartz crystals have been a source of Light to mankind. Highly valued by spiritual leaders and healers as well as scientists, the unique attributes of quartz have played a key role in mankind' evolutionary development." (Baer, R, "Windows of Light" preface)
Composed of silicon and oxygen (silicon dioxide), Quartz, from the European "quarz", is a key component in a wide array of minerals designated as "silicates." It occurs as prismatic hexagonal crystals in compact masses and druses, as well as in dense fibrous or grainy formations without visible crystals. It is also an important mineral element in common rock such as granite, quartzite and gneiss, and in sedimentary conglomerates like sandstone. [Simmons, 317][www.Quartzpage.de]
For all its variety, when most people speak of "crystals", they are usually referring to Rock Crystal (Clear Quartz), the six-sided prisms of pure light and energy known as the Perfect Jewel. In its sparkling light is contained the entire color spectrum.
In the metaphysical world, Clear Quartz crystals are the supreme gift of Mother Earth. Even the smallest is imbued with the properties of a master healer teacher. Ancients believed these stones to be alive, taking a breath once every hundred years or so, and many cultures thought them to be incarnations of the Divine.
Today's healers agree, believing crystals are living beings, incredibly old and wise, and willing to communicate when an individual is open and ready to receive. Wearing, carrying or meditating with a Clear Quartz crystal opens the mind and heart to higher guidance, allowing the realm of Spirit to be transmitted and translated into the world of physical form.
Resonating at the level of an individual's needs, Clear Quartz also amplifies whatever energy or intent is programmed into it, and continues to broadcast that energy throughout the world and into the etheric realms. This may accelerate the fulfillment of one's prayers, intensify healing or spiritual growth, or simply allow the crystal to hold a pattern of energy long enough and strongly enough for the manifestation of a goal to occur. [Hall II, 22][Eason, 133][Simmons, 318][Ahsian, 319]
"Quartz crystals are the manifestation of the Creator's finest hour of expression. The are windows of light with many facets which show the myriad dimensions of life created from cosmic dust in an ever expanding universe. Divine plan as foreordained that all expanding life revolve around one common denominator, quartz crystal. Through frozen solidified light all creation could be monitored and assisted through the evolutionary process."Beverly Criswell "Quartz Crystals: A Celestial Point of View" ( quoted in "Windows of Light", by Vicki and Randall Baer)
Clear Quartz, pure silicon dioxide, is also called Rock Crystal or Ice Crystal, from the Greek word "krystallos", meaning "ice", because crystal was believed to be water frozen so hard it could never thaw. The prismatic hexagonal crystals have relatively smooth sides and naturally facetted terminations at one or both ends, and may be transparent as glass, milky or striated, often found in clusters and ranging in all sizes. The terminations have different facet shapes depending on the rate at which they were formed, and these shapes are deeply significant. [Simmons, 318][Hall, 225] (See Crystals by Shape)
Throughout history, Clear Quartz has been valued by nearly every civilization as far back as Atlantis and Lemuria, where the sun's power was believed to be harnessed through a crystal as a source of solar energy refraction. They, along with Native American Indians, African tribes, ancient Egyptians, Aztecs, Romans, Scots and countless other cultures used Clear Quartz in diagnostic healing, meditations and spiritual development, as religious objects and in funerary rites, and to dispel evil and magical enchantments.
Quartz Uses and Purposes – Overview
Quartz crystal is valued for its piezoelectric and pyroelectric properties, by which it can transform mechanical pressure or heat into electromagnetic energy, and vice versa. Its ability to focus, amplify, store and transform energy is used throughout the technology world in ultrasound devices, watches, microphones, radio transmitters and receivers, memory chips in computers and other electronic circuitry. [Raphaell, 10-11][Simmons, 317][Melody, 503]
More information about Hyalin qyartz at http://www.crystalvaults.com/crystal-encyclopedia/quartz
Orgone Vegan – Pyramid quartz shungit 004 have a big hyalin quartz as top.
The heart of Orgone Vegan – Pyramid quartz shungit 004
 Shungite is a very unique mineral in the world. It has been located in one area of the world, namely Lake Onega Area, Karelia in Russia.
Thought to be formed around 2 billion years ago, some believe Shungite came from a meteorite which fell to earth and others believe it came from volcanic deposits which were expelled. Either way this unique mineral is beneficial to man and nature.
Orgone Vegan – Pyramid quartz shungit 004 have a big worked shungit as heart
My orgonite are produced according to different principles, more than those based on the scientific work of Dr. Wilhelm Reich. There are also those related to holistic and scientific disciplines still not officially recognized. First of all aromatherapy. The use of beeswax that is done of essential oils makes my orgonite very scented, especially when used for meditation and when washed with cold water and soap. Secondly chromotherapy. My orgonite have characteristics as stones, aromas and colors. This refers to orgonite in all categories except the pyramids that are all unique. The pyramids have a variety of different shades and tones of colors, thus giving you the choice of colors more suited to your needs and affinities auric colors. Thirdly, the use of radionics, for both forms that also internal disposition of minerals and metals. And of course with the use of intention during the phase of creation. Even infuse your auric energy footprint is important, but obviously isn't easy as writing it. The chanting of the mantra OM and during creation is also used to infuse my orgonite also a vibrational imprinting.
Other information in english http://beeswax-orgone.com
Blog in italiano http://orgonite-naturale.blogspot.it
My Google + page  https://plus.google.com/u/0/+MarcoMatteucci-MarekSheran/posts
Our Google places page  https://plus.google.com/+OrgoniteMareksheranHorn/posts
Our Google + page  https://plus.google.com/+Orgonitemareksheran777/posts
My Twitter page  https://twitter.com/MarekSheran
Our official facebook page https://facebook.com/orgonitemareksheran
Orgone Vegan – Pyramid quartz shungit 004 would be sent everywhere post arrive.