Orgonite Shungite  Heart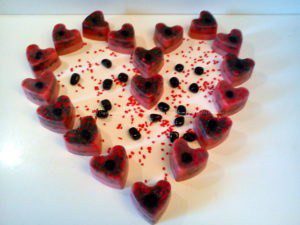 Orgonite Shungite Heart is a beeswax orgonite, very brilliant, with an heart of Shungite. This is an orgonite you can use everywhere, home, office, on your desk, tables and almost in any place. It's an orgonite you can gift to anyone you love, including yourself, to make happy who you take care about. This is also an orgonite that having a low cost, remain an art product, done by hands, one by one, and ever including essential oils, incenses and other products to ever give nice flavor also.
Orgonite Angelite  heart yet won a honorable mention to an art contest December 2014. You can find hundreds of orgonite hearts done by plastic, things of no value from art point of view, because chain production, and neither have value as orgonite, because plastic isolate energy and also the babies know this. Maybe Orgonite Shungite Heart will win next.
Chips of colored quartz  also on the top of the hearts, as you can see in pictures and gallery.
Orgonite Shungite  Heart  are only 18 units, and anyone is a little bit different from the others, for colors and composition of minerals on top, this to have an orgonite that is in fact unique.
This product  can be bought with other things you desire (a pyramid ?) , because is possible by a single one.
My orgonite are produced according to different principles, more than those based on the scientific work of Dr. Wilhelm Reich. There are also those related to holistic and scientific disciplines still not officially recognized. First of all aromatherapy. The use of beeswax that is done of essential oils makes my orgonite very scented, especially when used for meditation and when washed with cold water and soap. Secondly chrome therapy. My orgonite have characteristics as stones, aromas and colors. This refers to orgonite in all categories except the pyramids that are all unique. The pyramids have a variety of different shades and tones of colors, thus giving you the choice of colors more suited to your needs and affinities aura colors. Thirdly, the use of radionics, for both forms that also internal disposition of minerals and metals. And of course with the use of intention during the phase of creation. Even infuse your aura energy footprint is important, but obviously isn't easy as writing it. The chanting of the mantra OM and during creation is also used to infuse my orgonite also a vibration imprinting. This never have to do with plastic synthetic orgonite, and internet is full of that.

Other information in English https://www.beeswax-orgone.com